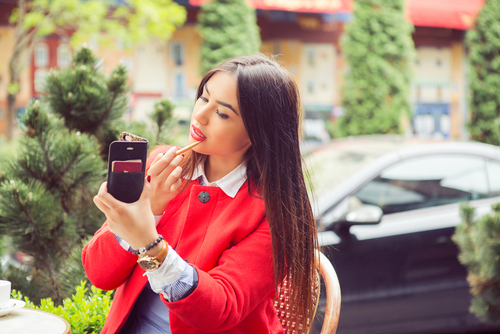 Having LASIK gives you more than visual freedom- it can give you a whole new look. If you've relied on glasses or contacts, you know the frustration. Wearing makeup with contacts can mean poking your eye while putting on mascara.

Glasses and makeup are just a nightmare! It's almost impossible to see your makeup when you put your glasses on.
LASIK
seems like the best scenario if you're a makeup wearer!
But if you're already a regular makeup user, be aware that after surgery you shouldn't put on eye makeup right away.
Waiting a bit to use makeup can prevent you from having an infection or other complication. Keep reading to learn more about makeup after LASIK!
How Long Should I Wait To Wear Makeup?
There's no set in stone number, but to be safe, wait a week before wearing makeup after LASIK. When you do start wearing makeup again, be extra careful.
Makeup can carry bacteria which leads to infection. This is especially relevant if you're wearing eye makeup.
It's almost too easy to poke yourself in the eye while putting on eyeliner or mascara. What seems harmless could be dangerous after LASIK!
Feel free to wear concealer or lipstick as long as you don't put anything near your eyes. A good rule of thumb is to stick to makeup below nose level for the first week after LASIK.
Replace All Old Makeup
After LASIK, the last thing you want to do is replace all your makeup. Unfortunately, it really is the best thing to do. For any opened containers, new makeup needs to be purchased.
This prevents bacteria from your old makeup getting in your eyes. It seems unlikely that you could get an infection from makeup, but it's possible!
After LASIK, your eyes will be more sensitive and susceptible to infections. If you can't bear to part with lipsticks or foundations, you must get rid of any old eye makeup.
This includes mascara, eye shadows, eye liners, or primers. Do yourself a favor and only use unopened or all new makeup when you use makeup after LASIK.
Good Makeup Habits
Even when you're not recovering from LASIK, it's wise to practice good makeup hygiene. It may seem like common sense but you would be surprised how many people don't!
Don't use expired makeup, don't share makeup, and always wash off makeup before bed. These are a few of the most important makeup habits to follow. You may think that going to bed with your makeup on is no big deal, but it is.
Not only is it bad for your pores and makes you breakout, but it's dangerous. Wearing eye makeup like mascara or eye shadow to bed can get in your eyes. If makeup gets in your eyes, nothing good is going to happen.
Your eyes will get irritated, and you could end up with an infection! Makeup can carry bacteria, and leaving it on overnight is asking for trouble. Be smart and take off all makeup before going to bed, even after a long night out on the town.
If you don't want to come in contact with bacteria, avoid sharing makeup. If you have to use someone else's, use a Q-tip so you aren't directly in contact with the product.
Thinking about getting LASIK? Wondering if it's right for you? Contact Solomon Eye Associates in McLean for a
LASIK consultation
today!